Plan your Next Adventure
Are you ready for a new era of adventure, comfort, and innovation? The 2023 Nissan Rogue is here to redefine your driving experience. Join us at Tacoma Nissan for an in depth exploration of this remarkable midsize crossover, where we delve into the thrilling performance, advanced technology, safety features, and versatile trims that make the Rogue the ultimate family SUV. We'll also examine the cutting edge all-wheel drive (AWD) capabilities, the abundance of cargo and passenger space, and how this vehicle redefines the road ahead. Discover what it truly means to go Rogue.
Unmatched Performance: The Heart of the
Rogue
Let's start with what's under the hood, the beating heart of the 2023 Nissan Rogue. With a robust 201 HP VCTurbo® Engine, the Rogue redefines the meaning of a midsize crossover. This engine effortlessly balances power and efficiency, giving you a thrilling driving experience without breaking the bank.
One of the standout features is its impressive fuel economy, offering 30/37 MPG (City/Highway). You'll find yourself going farther on each tank of fuel, making those family road trips more affordable than ever. But it doesn't stop there; the Rogue boasts 225 lb-ft of torque, ensuring rapid acceleration and a smooth ride.
Adaptive All-Wheel Drive (
AWD
): Conquering Any Terrain
The 2023 Nissan Rogue offers available Intelligent All-Wheel Drive, allowing you to transition seamlessly from city streets to rugged terrains, just by twisting a dial. Whether you're navigating pavement, off-road trails, or snowy landscapes, the Rogue adapts with ease, providing the traction and control you need. If you're looking for a versatile SUV that can handle various driving conditions, this is the one.
Drive Modes for All Occasions
The Rogue ensures you have control over your driving experience with multiple drive modes. Standard options include Eco and Sport, but with Intelligent AllWheel Drive, you gain access to Snow and OffRoad modes, allowing you to tackle even the most challenging environments confidently. Whether you're commuting in the city or escaping to the wilderness, the Rogue caters to your every need.
A Family-Centric Cabin: Spacious and Luxurious
Family adventures are at the core of the 2023 Nissan Rogue. It offers a spacious interior that seats up to five passengers comfortably, ensuring that no one gets left behind. Available semi-aniline leather appointed seats bring an air of luxury, while generous legroom, with 43.3 inches up front and 38.5 inches in the rear, makes sure everyone has ample space to stretch out. It's not just an SUV; it's a premium ride for the whole family.
Cargo Space That Adapts to Your Lifestyle
One of the Rogue's standout features is its expansive cargo capacity. With the rear seats upright, you'll find 36.5 cubic feet of cargo space, ensuring that you don't have to leave anything behind. The Rogue goes a step further with the available DivideNHide cargo system, a feature exclusive to SL trim and above. This system offers six different storage configurations, providing unmatched flexibility. Whatever your cargo, it fits perfectly in the Rogue.
Safety Shield 360: Driving with Confidence
Safety is paramount when it comes to the Rogue. That's why it features Nissan's Standard Safety Shield 360. In addition to this, it offers various other safety technologies that provide you with peace of mind throughout your journey.
 Automatic Emergency Braking with Pedestrian Detection: This standard feature monitors the speed and distance between you and the vehicle in front, warning you to slow down. It can also engage the brakes automatically to avoid frontal collisions or reduce their severity. If a pedestrian or cyclist is detected, it can bring you to a stop.
 Rear Automatic Braking: Keeping an eye out for large stationary items directly behind you, this feature can save you from those unexpected surprises.
 Blind Spot Warning: It keeps an eye on your blind spots, alerting you to the presence of any vehicles hiding there.
 Rear CrossTraffic Alert: This feature watches the rear of your Rogue, providing you with warnings about vehicles approaching from either side.
 Lane Departure Warning: Ensuring that you only change lanes when you intend to, this feature gently warns you if it detects you drifting out of your lane.
 High Beam Assist: Automatically deactivating your high beams when an oncoming vehicle is detected and then reactivating them, this feature enhances nighttime driving.
Top Of The Line Technology: Keeping You Connected
The 2023 Nissan Rogue is your gateway to advanced technology, ensuring you stay connected while on the go.
Apple CarPlay® Integration
 Standard Apple CarPlay® transforms your Rogue into a mobile hub. You can access your contacts, favorite messaging apps, Apple Music® playlists, Apple Maps, and more by simply plugging in your compatible iPhone.
Intuitive Displays
A suite of displays is at your service, including an available 9" intuitive touchscreen, an available Heads Up Display (HUD), and a customizable 12.3" digital dashboard. These tools keep you informed and entertained throughout your journey.
Premium Audio
Boasting a proprietary design and acoustical analysis of the cabin, the available Bose Premium Audio system brings the power of sound to every seat through 10 high-performance speakers. Available as part of the SL Premium Package and on Platinum trim.
 Android Auto™
Your personal assistant on the road, Android Auto lets you get things done using your voice. Send messages, get directions, control media, and more without taking your eyes off the road.
 Wireless Freedom: The Rogue offers available wireless charging and wireless Apple CarPlay®, setting the stage for the future of in-car connectivity. Keep your devices powered and connected without the hassle of cords. Available on Platinum trim.
Nissan Genuine Accessories: Tailored to You
Make your Rogue uniquely yours with a range of Genuine Nissan Accessories, each backed by a 3-year/36,000mile limited warranty if installed by the dealer at the time of purchase. Customize your Rogue with a variety of accessories, both for the exterior and interior.
Exterior Accessories:
Interior Accessories:
Affiliated Accessories:
Various Trims to Suit Your Style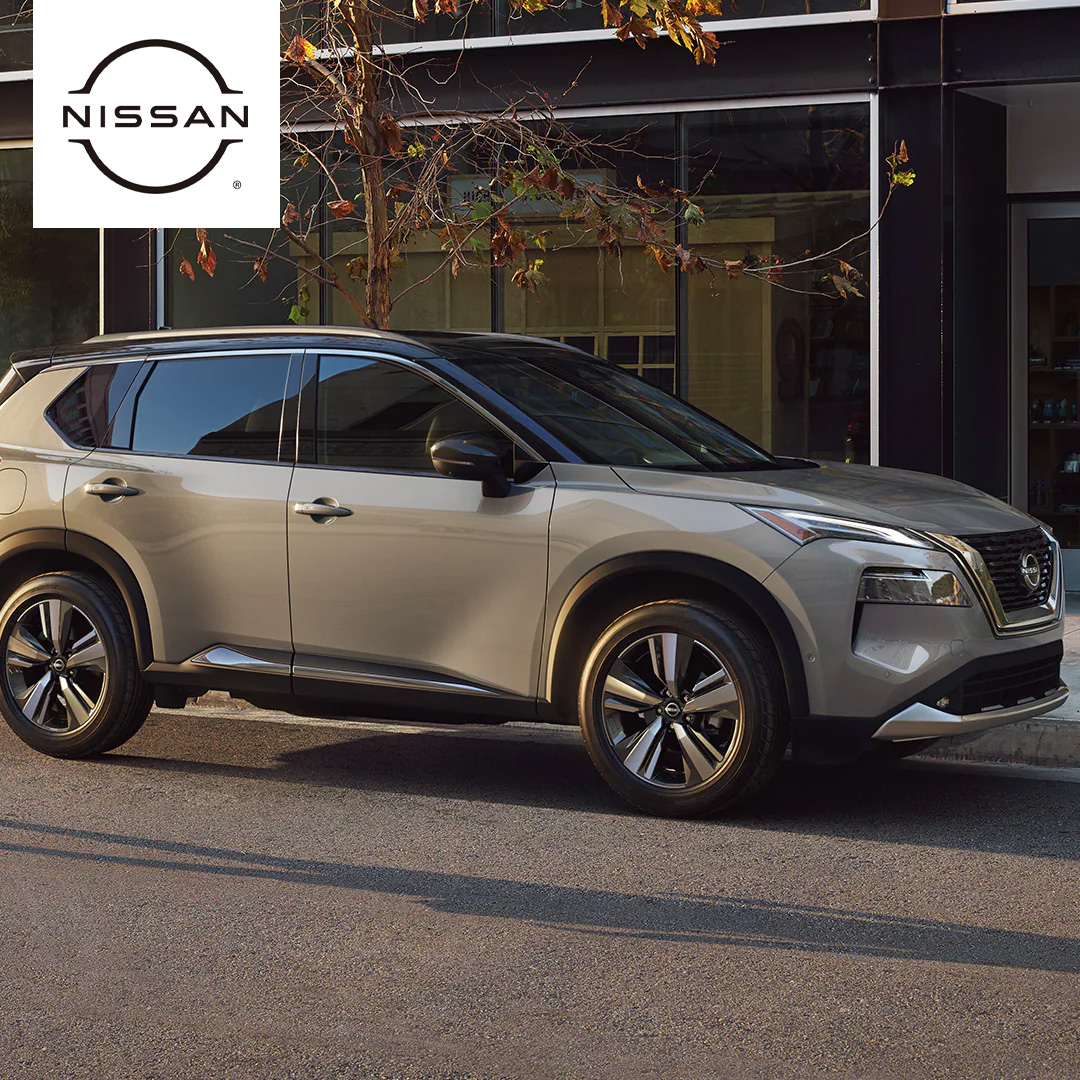 The 2023 Nissan Rogue offers a wide range of trims, each tailored to suit your preferences and requirements. These trims are:
 Rogue S-  The Rogue S comes with a 1.5L DOHC 12 Valve 3 Cylinder Direct Injection Turbocharged Engine, Nissan Safety Shield 360, and 17" Aluminum alloy wheels. It's the perfect choice for those seeking a well-balanced combination of performance and safety.
 Rogue SV-  This trim features the ProPILOT Assist system, a Remote Engine Start System with Intelligent Climate Control, and 18" Aluminum alloy wheels, offering enhanced convenience and comfort.
 Rogue Midnight Edition- For those looking for a more unique style, the Midnight Edition includes 18" Gloss black aluminum alloy wheels, a Black VMotion grille, and Black roof rails, giving your Rogue a distinct look.
 Rogue SL-  The SL trim offers 19" Aluminum alloy wheels, an Intelligent Around View Monitor, and a Dual Panel Panoramic Moonroof, elevating your driving experience to the next level.
 Rogue Platinum-  The Platinum trim is the pinnacle of luxury and technology. It includes ProPILOT Assist with Navilink, Quilted semi aniline leather appointed seats, and a Digital dashboard with fully digital gauges. If you're looking for the best of the best, this is the trim for you.
AllWheel Drive (AWD) Trims for Added Versatility
The 2023 Nissan Rogue offers a choice of AllWheel Drive (AWD) trims, designed to cater to a variety of driving needs. Here's a breakdown of the AWD trims:
 Rogue S AWD-  Enjoy the exceptional performance of the Rogue S with the added confidence of AWD.
 Rogue SV AWD-  The SV trim combined with AWD ensures a well rounded driving experience.
 Rogue Midnight Edition AWD-  Elevate your style with the Midnight Edition's unique design and the versatility of AWD.
 Rogue SL AWD-  The SL trim with AWD offers a luxurious driving experience with enhanced traction.
 Rogue Platinum AWD-  Get the ultimate in luxury, technology, and AWD capability with the Platinum trim.
The 2023 Nissan Rogue Platinum is the embodiment of automotive excellence. This top-tier trim goes beyond expectations, offering an array of exclusive features that make every journey unforgettable. The Rogue Platinum is engineered for those who demand the pinnacle of performance, comfort, and technology.
With a wide range of trims and features to choose from, you're sure to find your ideal 2023 Nissan Rogue at Tacoma Nissan. Whether you're a family in search of adventure, a tech enthusiast, or a luxury aficionado, the Rogue offers a trim tailored to your desires.
Come to Tacoma Nissan and experience the Rogue for yourself. Our team of experts is ready to assist you in finding the perfect Rogue to match your lifestyle and driving needs. Discover how the 2023 Nissan Rogue can elevate your driving experience, and embark on your next adventure in style, comfort, and with absolute confidence.
If you're ready to unleash your adventurous spirit and redefine your driving experience, look no further than the 2023 Nissan Rogue. Join us at Tacoma Nissan and experience this exceptional midsize crossover for yourself. The road ahead is waiting—let's go Rogue.